I'm Anne-Louise from Denmark. In wintertime I live & work as a ski instructor & freerideguide in Austria, Arlberg. 
If you want to book me for skiing, coaching or fitness training or other job requests press HERE . Also if you want to give feedback on my blogposts & other stuff.
MY STORY SHORT
I was born in december 1985. It was actually snowing a lot, when my mum & dad went by car to the hospital to give birth to me. I'm a real winter child 🙂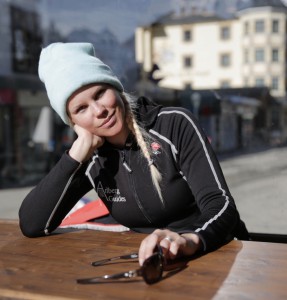 I started to ski in the age of 3. Ski holidays 3 times a year with my family to Sweden, Norway and The Alps (France, Switzerland, Italy & Austria). When I was 17 years old, I went to St.Anton am Arlberg with my family, and it was love at first sight. After High School I had a gap year –   A part of it was of course a season as a ski instructor in St. Anton.
Afterwards I had to study, because that's what every "good citizen" does in the Danish society. Though, in the holidays I went to St.Anton, to work as a ski instructor. After I got my bachelor of Sport Science & Health, I started on a master degree in Social Sciences & Sport Science. In the first semester I found out that I could study a lot on my own. Therefore, in the winter semesters, I started to commute between Copenhagen – ST. Anton. (At that time Transavia had cheap direct flights – thanks for that).
I actually did my master thesis about Freeskiing/Freeriding in the off piste (The feeling of flow, freedom, excitement, sensation seeking, risk taking etc). When I finished my thesis and had my qualification on paper,  I felt free. Especially I felt the freedom of expectations from society, family etc., to get an university degree. Ok DONE!
Next thing was work. I was not interested in a typically 9-16 job, and during making my master, I felt in love with an Austrian guy, which was good and bad at the same time. Through him I learned to be more aware of doing, what felt right for me, and we found out how to combine work & life between Austria & Denmark. That was the best decision in my life until now! 
In wintertime I started to work – again – as a ski instructor around Arlberg – all levels from beginners to expert skiers. I have been working as a ski instruktor for over 15 years now, and in 2017 I got the Austrian state-certified ski instructor education / Staatlich geprüfter Skilehrerin Österreich.
 In summer I work with different stuff at the Westcoast of Denmark (E.g fit bootcamps, love coaching, human relations, SUP & kitesurfing, SoMe work related the tourist industry). 
Contact me if you have any questions or want to BOOK ME for skiing. Also if you need more  ski-instructors or mountain guides, I am in a position to confidently recommend a suitable professional.  
/ Anne-Louise Saikkonen Jørgensen